Anubis is a Legendary Mythic-Necro mutant and the 10th Legendary mutant to be released.
It is also obtainable in the Big Boss! reactor in a Gold version with alternate appearance.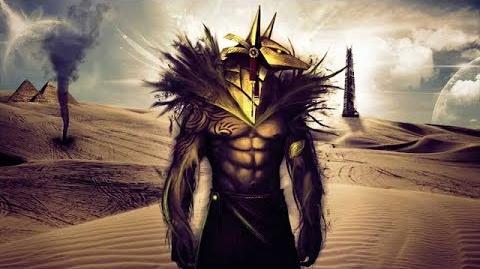 Appearance
It's a jackal-headed humanoid with red eyes and is holding a spear-like weapon which looks like a spade or a rake in one hand and a glowing orb of energy in the other.
Stats
Attack: Very High
Life: Resistant
Speed: Slow
Attacks

Weighing of the souls

Gates of Duat
Biography
Experimenting with artifacts believed to have been owned by gods have yielded mixed results by Darwin's team. Anubis is one of the success stories, whilst not displaying pure godly powers it is still a match for most opponents.
Trivia
This mutant was the very first Legendary mutant to be awarded as a prize in PvP.
Like Horus, Anubis is also an Egyptian deity.
Anubis the Egyptian deity is a Jackal-headed god who judged the dead in the afterlife by weighting ones' heart on the scale.
His Platinum version resembles Lord Beerus from anime Dragon Ball Battle of Gods
Gallery